---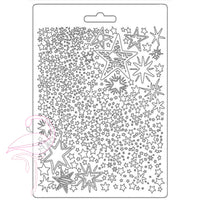 Stamperia A5 Texture Impression modelling mold CHRISTMAS PATCHWORK STARS K3PTA584
Can be used with Stamperia's own Cream Paste K3P53 or similar casting pastes, gel pastes, or other "flexible" materials but is not suitable for use with plaster, concrete and other hard materials, as castings are very shallow and your project will easily break.
Since the mould has a shallow relief, it can also be used on the reverse side as a stamp.
Made of flexible, transparent PVC, is reusable, is not intended for food or cosmetic purposes.
Apart from using as a whole, you could simply fill in only those parts of the mould that you want to use.
Watch this for more ideas: https://www.youtube.com/watch?v=JG78mrxkkP0